Lancashire school staff claim £900k for trips and falls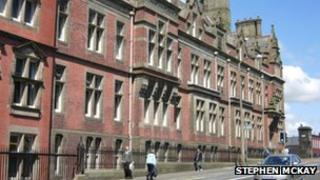 Lancashire's council leader has criticised "compensation culture" after teaching staff claimed almost £900,000 for trips and falls at schools.
The 12 payouts made in the last year include £800,000 for a teaching assistant whose trip over a wheelchair strap triggered chronic pain.
The claims cost the authority £244,647 in insurance fees.
County council leader Geoff Driver said payouts were a "sad reflection on the litigious society we have become".
He added: "There seems to be no such thing as an accident anymore; everything is argued to be someone's fault.
Dislocated finger
"I would tend to agree with those who say that this is a huge amount of money, albeit largely covered by our insurance."
Payouts included £42,000 to a teacher who banged their head on a door when it failed to open, and £20,000 to another staff member who injured their back and shoulder pushing a pupil in a wheelchair.
In the case with the largest claim of £800,000, the council's log notes a teaching assistant had been trying to move a wheelchair when she tripped.
It states she initially "suffered a dislocation of the little finger and injury to the elbow" due to the fall, but went on to develop further symptoms that doctors said were equivalent to a stroke.
Mr Driver said the council contested her compensation claim, but a court ruled the authority was liable.
Her solicitor said she had developed a "life-changing" complex regional pain syndrome which left her unable to work and dependent on the care of her husband.
"She takes high doses of painkilling medication every day and the family home has had to be adapted so that she can live downstairs," he said.