Engineer's Dakar Rally challenge on self-built bike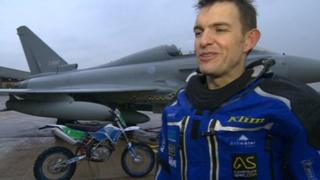 A man has remortgaged his house to raise £70,000 to take part in one of the world's toughest off-road races.
Lyndon Poskitt, a BAE Systems engineer from Garstang in Lancashire, is preparing to compete in the Dakar Rally on a motorbike he built himself.
The endurance race, which begins on 5 January, has a route which takes in more than 8,000km (5,000 miles) between Lima in Peru and Santiago in Chile.
"It's just one of those things that you dream about as a kid," Mr Poskitt said.
'I was crazy'
The 33-year-old added: "You eventually realise that you've got to turn those dreams into a goal and just get out there and make it happen.
"My family know I've wanted to do it for years and when I told them I was going to do it they probably thought I was crazy, but they're very supportive.
"My dad's an engineer too so I've invited him to be my mechanic: he taught me all I know."
Five hundred competitors from 50 countries will take part in rally in vehicles including cars, motorbikes and trucks.
"The challenge on a motorbike means it's all about you; you don't have a navigator and you do your own driving," said Mr Poskitt.
"You have to keep focused to get through every day because it's just monotonous, one day after the other."
Stretches of wilderness
Driving around the damp hills of Lancashire is not quite the same as the desert heat of Peru, so to prepare himself Mr Poskitt went to Morocco to train.
"I've also got 10 days in Lima to prepare and finish getting the bike ready," he said.
"It's going to be rough; we're talking mountainous conditions, big rocks, small rocks, sand dunes, water crossings.
"Anything can happen."
The rally used to take place between Paris and Dakar in Senegal but is now staged in South America for security reasons.
However, it remains one of the greatest motoring challenges in the world.
Only about 40% of the teams taking part complete the race, which covers vast stretches of wilderness in Peru, Argentina and Chile.