Blackpool helicopter crash families sue US firm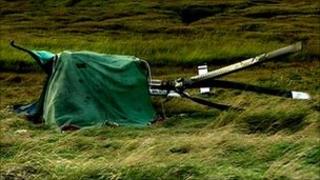 The families of a pilot and passenger killed in a helicopter crash in 2009 are to sue its US-based manufacturer.
Steven Lewis, 38, and passenger Philip Gray, 45, died shortly after taking off from Blackpool Airport.
A US federal judge has ruled that the lawsuit can be filed in the Philadelphia Federal Court against the makers of The Schweizer 269C.
Jim Morris, from law firm Irwin Mitchell, said the families are seeking seven-figure damages.
An inquest jury returned a narrative verdict in 2011 which said it could not state what sequence of events "caused the loss of usable engine power".
Mr Morris said the families are suing the Schweizer Aircraft Corporation and Lycoming, who made the helicopter's engine.
Mr Morris said: "It could take anything up to three years.
"The official investigation found that the crash occurred because of a loss in power which could not be determined - the families are hoping they will get the answer to their questions about why it the accident happened."
A statement from Mr Lewis's brother Adrian said: "The key thing in our battle for justice for Steven is ensuring that the helicopter manufacturers are thoroughly investigated."
Mr Lewis from Rainhill, who had been instructing student Mr Gray, 45, of Mawdesley, near Chorley, Lancashire, made a mayday call 20 minutes into the training flight from Blackpool Airport.
The helicopter crashed on the east bank of the River Wyre, near Stalmine, shortly after sending the mayday signal as it flew over Poulton-le-Fylde at about 1210 BST on 22 September 2009.
Nobody from the helicopter's manufacturers Schweizer Aircraft Corporation based in New York, was available for comment.