Fylde sand dune restoration boosted by Defra funding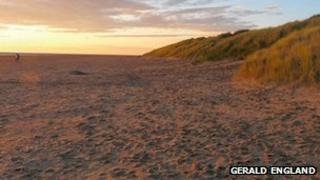 Funding of £520,000 has been secured to improve sand dunes on part of the Lancashire coast.
The Defra grant will go towards improving the "poor condition" of the dunes on the Fylde coast to reduce the risk of coastal flooding and erosion.
Fylde Borough Council said more than 90% of Lancashire's sand dunes were on the Fylde coast. The stretch runs between Starr Gate and Lytham Green.
The council said the project aims to widen dunes by up to 30 metres.
Lynne Ashton, dunes officer at the council, said: "The habitats have been broken up into smaller, narrow areas which are under pressure from trampling and erosion and we are looking at this opportunity to improve the condition of the dunes area.
"Because our dunes are so narrow and fragmented, there's lots of bare sand which gets whipped up in the high winds and gets blown out to the highways and into people's gardens. We would like to reduce the effects of that."
Marram grass
The council said moveable boardwalks would be used to control the levels of trampling by people accessing the beach.
Geoff Willetts, senior coast and countryside officer at Fylde Borough Council, said marram grass would also be planted on the dunes.
He said: "The roots of the marram grass go down an incredibly long way, they hold the dunes together.
"We have lost so much of the dunes in the past few years, we really need to push this project on and rebuild them."
On Tuesday, hundreds of discarded Christmas trees gathered from across Fylde will be planted to protect the dunes.
The trees, donated by members of the public, will help to slow the wind, cause sand to be deposited and allow the shrinking dunes to grow.