Mary Portas visits Nelson and Stockport in high street review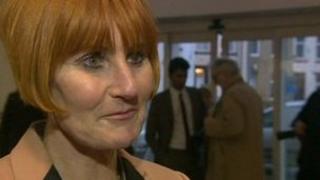 Retail guru Mary Portas has visited towns in Lancashire and Greater Manchester to see how they are rejuvenating their shopping areas.
Nelson and Stockport are two of 12 pilot areas selected to trial proposals put forward in the Portas independent review of the high street last year.
Each town received £100,000 of government funding.
In Nelson, the money has been used to create a vintage arts and crafts market and a young person's cafe is planned.
Organisers said the vintage market attracted more than 3,000 people to the town last year.
In Stockport, the focus is on rejuvenating the markets and underbanks area and creating a digital and visual arts centre.
Ms Portas toured the towns, chatting to shoppers and small business owners before offering her advice to the teams who made the successful bid for funding.
"Everybody is saying we care and we want to do something and we want to make change," she said.