Morecambe's Urban Splash redevelopment plans rejected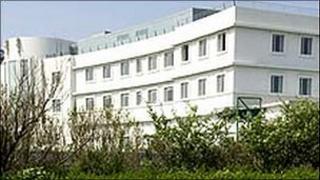 Proposals to redevelop Morecambe's seafront have been thrown out by councillors for a third time.
Plans to build flats, shops and a hotel on Central Promenade near the Midland Hotel were submitted to Lancaster City Council by developers Urban Splash.
The council said the scheme was knocked back over doubts it was "viable" in the current economic climate.
Urban Splash, which revised plans from previous applications in 2007 and 2010, has yet to comment on the decision.
The developers refurbished the Midland Hotel in 2008 which is close to the 18.5 acre (7.5 hectare) site.
In the revised proposals, the developers said the scheme would "revitalise" the town and play a key part in its much-needed regeneration.
It added it would be a "giant leap of faith" in the current climate.
Lancaster City Council said in a statement: "The plans were rejected due to doubts over whether Urban Splash could deliver the scheme given the current state of the economy, and the impact an unfinished scheme could have upon the setting of the Midland Hotel, the conservation area and the Winter Gardens.
'Disservice to people'
"While the committee welcomed Urban Splash's contribution to the continuing regeneration of the town, through the regeneration of the Midland Hotel, it was of the opinion that the scheme was no longer viable."
Councillor Keith Budden, chairman of the council's planning committee, said: "A lot has changed in the period since the plans were first submitted and unless we can be certain that the development is viable the committee decided it could not be granted in its current form.
"We would be doing a disservice to the people of Morecambe if we were to agree a scheme which could lay unfinished and it is a chance we could not take."
A report put together by planning officers stated there was no guarantee the scheme would be completed and it said the development would cause traffic problems around the Promenade, Marine Road Central and Northumberland Street crossroads for traffic, cyclists and pedestrians.
Urban Splash has worked on regeneration projects in Liverpool, Manchester and Birmingham.
Its chairman Tom Bloxham, has previously said the firm will invest in other towns if residents continue to oppose the plans.