£22m to reduce coastal flooding in Wyre and Blackpool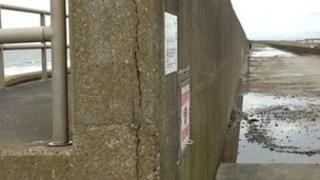 One of the largest flood defence schemes in the UK will benefit properties on Lancashire's Fylde coast.
The Department for Environment, Food and Rural Affairs and the Environment Agency have confirmed construction is to start on 93 new flood defences.
Homes and businesses in Wyre and Blackpool will benefit with £22m from the fund.
The project at Anchorsholme and Rossall will help to to protect 13,000 homes, as well as roads and a new tramway.
Blackpool and Wyre Councils will replace sea defences from Kingsway to Little Bispham at Anchorsholme and between Rossall Hospital and Rossall Point.
Roger Berry, cabinet member with responsibility for sea defences at Wyre Council, said he was "delighted" to receive money for "vital improvements to our seawall".
He said: "We're now putting together a comprehensive business plan and will be seeking the views of residents on the design features before submitting final plans for approval, so that hopefully we can be on site before the end of the year."
Gary Coleman, cabinet member for regeneration at Blackpool Council, said: "The residents of Anchorsholme have been waiting many years for the news that their homes would be protected by a new seawall.
"Today's news is a fantastic boost for the area."
A series of public consultation events will be held during March.
In another Lancashire scheme, the village of Croston, which has flooded regularly in the past due to high rainfall causing the River Yarrow burst its banks, is to receive £1.5m.