Sam Bee murder: Robert Heneghan guilty of Blackpool killing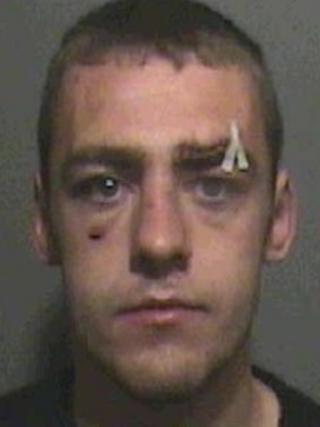 A teenager has been found guilty of stabbing a 19-year-old to death in Blackpool.
Robert Heneghan, 19, of Palatine Road, Blackpool, stabbed Sam Bee in the chest after a disturbance at an address on Dean Street on 14 August last year.
Mr Bee left the address and was found in the back yard of a hotel nearby. He was pronounced dead at the scene.
Heneghan was convicted after a trial at Preston Crown Court and is due to be sentenced on Tuesday.
Det Supt Paul Withers, of the Force Major Investigation Team, said: "This was such a tragic and unnecessary loss of life and our thoughts remain with Sam's family at this sad time.
"This case highlights the most serious consequences of carrying a knife.
"I would urge anyone who picks up a knife in anger to consider the consequences; it could lead to the loss of somebody's life and a lifetime of sorrow for their family as well as a significant custodial sentence for the perpetrator."
Mr Bee's grandmother Dorothy Wells said: "Sam's death has had a very big impact on me and my family. Sam was only 19 years of age and his life has been tragically cut short.
"We've not only had to deal with Sam's terrible death but also the death of his mother who died the same week.
"The only thing that has kept me going is the fact that Suzie, his mum, was not aware of his death.
"My life will never, ever be the same again and I just have to take it one day at a time."