Lancashire fire service set to save further £10m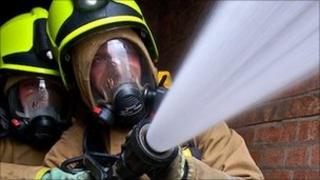 A further £10m worth of cuts may need to be made by Lancashire Fire and Rescue Service in the next three years, its chief fire officer has warned.
The service has already made £13m worth of savings since 2007, but if funding reductions continue it will need to save £10m from its £60m budget by 2016.
Chief Fire Officer Chris Kenny said £4m of savings have already been identified.
The Fire Brigade's Union (FBU) said the cuts would put lives at risk.
Steve Harman, brigade secretary for the FBU in Lancashire, said the cuts were "totally unsustainable".
'Financial challenge'
"With this level of cuts, it is inevitable that Lancashire will see a further loss of firefighter posts and fire appliances which will expose firefighters to even greater risks in what can already be a dangerous job," he said.
"In a job where every second counts, the public should be extremely concerned about this attack on their fire service."
Mr Kenny said: "Our immediate aim is to minimise any adverse effect on frontline services, but this cannot continue indefinitely.
"However, we will continue to review of all parts of our organisation and will be doing this systematically to make sure we identify all opportunities to meet this most significant financial challenge.
"While protecting the public is our priority, to achieve £10m in savings it is inevitable that there will be an impact on the numbers of fire engines, firefighters or working patterns.
"This will be considered later this year during our Emergency Cover Review."