Revoe Primary School suspends six staff members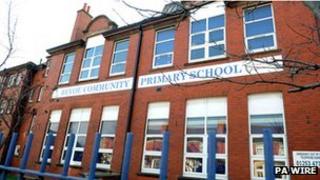 A primary school head teacher and five staff members have been suspended over alleged ill-treatment including locking a pupil in a room.
The staff at Revoe Community Primary School in Blackpool were suspended after concerns were raised before half-term last week, the council said.
It said no child was believed to have come to any harm but that it was a "serious situation".
Lancashire Police have confirmed they are investigating.
The council confirmed the allegations were not of a sexual nature.
The incident came to light after a member of Blackpool Council's education department visited the school on an unrelated matter.
It is alleged a pupil was locked in a small room on their own after being badly behaved.
Sarah Riding, cabinet member for education and schools, said the six had been replaced with temporary members of staff and parents had been informed.
'Safeguarding young people'
She said: "Before half term we were made aware of an issue at Revoe Primary School that raised concerns to us about the professional judgement made by a number of staff in relation to pupil well-being.
"These concerns have led to the suspension of six members of staff while a full investigation is carried out."
A police spokeswoman said: "This allegation, like any allegation involving the well-being of young people, is being taken extremely seriously and will be thoroughly investigated as our priority is the safeguarding of young people.
"No arrests have been made at this stage."
The school, on Grasmere Road, teaches children aged between two and 11 years old. It has more than 400 pupils and employs about 70 people, including teachers and support staff.