Blackpool Council announces small council tax drop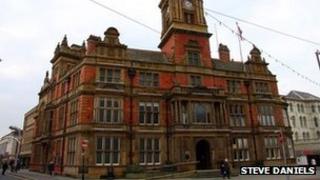 Council tax is being marginally reduced in Blackpool.
Blackpool Council leader Simon Blackburn (Lab) announced there will be a reduction of 0.01%, during a budget meeting at the town hall.
There has been no news on the 300 job cuts expected to be announced by the council as it seeks to save £14.1m in the next financial year.
Tory group leader Tony Williams called it a "political budget" and said the loss of jobs was being ignored.
Mr Blackburn said he was intending to freeze the council tax for the next three years but decided that for the next financial year there should be this small drop.
He described the reduction as a "symbolic gesture".
The decrease in council tax will work out as an annual reduction of nine pence for residents in band D households.
On Thursday, Lancashire County Council announced a surprise 2% drop in council tax.
Conservative County Council leader Geoff Driver said: "The county council has managed its finances very well despite huge reductions in funding and that has put us in a strong enough position to cut council tax while announcing new investments and continuing to make savings."