Lancaster University wins award for China links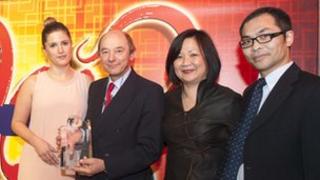 Lancaster University has received an award from the government for its links with China.
The university first forged the links in 1976 and is now setting up a university Guangdong University of Foreign Studies.
Manchester's Halle Orchestra was also honoured in the Greater China Awards after its first tour of mainland China.
The awards held at the Lowry Theatre, Salford Quays, were organised by the UK Trade & Investment North West.
Director of the Lancaster China Management Centre at Lancaster University Management School Professor David Brown, said the institution was one of the first in the UK to forge links with the country.
He said: "Over the years we have developed research, management, teaching and employment links with a wide range of institutions in China."
He added "collaboration remains central to our China agenda".
The Lancaster Environment Centre (LEC) has long-established links with the country including the China Bridge Project, which is aimed at tackling environmental issues like global food security as well as a collaboration with the Chinese Academy of Sciences based on the environmental sciences.
The institution has launched an undergraduate degree in Linguistics with Chinese and all students at Lancaster University are offered the chance to study Mandarin and the university offers Chinese cultural courses to local schools and businesses.
More than 700 students from China currently study at Lancaster University.