Chorley Council votes to freeze council tax levels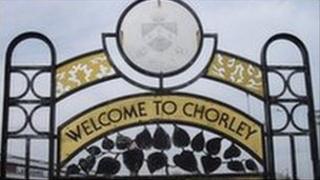 Councillors in Chorley have voted to freeze next year's council tax in a budget which will also see no rise in fees or charges for council services.
The budget agreed at Thursday's council meeting also sees £2.8m spent on priorities identified by local people.
Councillor Peter Wilson, deputy leader of the Labour-led council, said the council was in a "unique position".
But opposition leader Councillor Peter Goldsworthy (Conservative), said the freeze was based on heavy borrowing.
This is Labour's first budget since it took power in May - previous administrations had also frozen council tax levels.
Labour said the spending priorities identified by local people included an emphasis on creating new jobs, supporting the local economy, making better use of landmark sites and helping young people.
The authority said it faced almost £1.3m in grant reduction over the next two years but said it had made savings by reducing management costs and providing services more efficiently.
'Total madness'
And £450,000 will be paid off the council's long standing £9m debt.
"We find ourselves in an almost unique position, when you hear the doom and gloom coming from other authorities in Lancashire, where we can maintain all our frontline services, freeze council tax and still be able to make investment in the local area," said Mr Wilson.
"However, there are still very tough times ahead, which is why we must continue to look at how we can save money."
Mr Goldsworthy said Labour's plans were "speculative and risky" and based on a 20% increase in borrowing after inheriting "healthy finances" from the Conservatives.
"The extra £2m will have to be paid off over the next 50 years by present and as yet to be born council tax payers. This is total madness" he added.
In other budget meetings Burnley Council approved a council tax rise of just under 2% and pledged to support police and community support officers over the next two years as well as continued financial support for major regeneration schemes such as the Weavers' Triangle.
Preston City Council approved a council tax rise of 2%.
West Lancashire Borough has announced a freeze on council tax for the fourth successive year.