Blackpool's Revoe Primary School: Police drop mistreatment case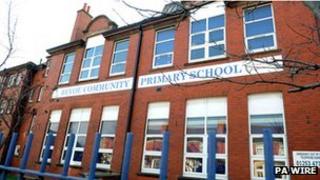 A police inquiry into allegations of child mistreatment at a Blackpool school has been dropped.
Six members of staff at Revoe Community Primary School were suspended last week after concerns were raised before half-term, the council said.
However, Lancashire Police said after a number of enquiries it was decided that none of the reported conduct justified a criminal prosecution.
Blackpool Council said it would now start its own investigations.
The head teacher and five staff members remain suspended over alleged ill-treatment including locking a pupil in a room.
The council confirmed the allegations were not of a sexual nature.
The incident came to light after a member of Blackpool Council's education department visited the school on an unrelated matter.
It is alleged a pupil was locked in a small room on their own after being badly behaved.
A police spokesman said "Our priority in this case was to make sure that children are properly safeguarded and we will continue to support and work with our partners in order to ensure this is the case."
The school, on Grasmere Road, teaches children aged between two and 11 years old. It has more than 400 pupils and employs about 70 people, including teachers and support staff.