Blackpool Illuminations given extra week to 'extend season'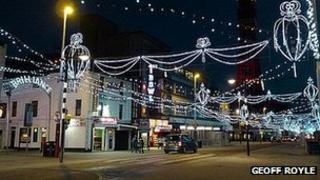 Blackpool Illuminations will be lit for an extra week in 2013 to extend the resort's tourist season, the town's council has announced.
The promenade light show normally lasts nine weeks, but will stay on for an additional week until 10 November.
The extra week is being funded by Merlin Entertainments, which operates several of the town's attractions.
A council spokesman said the extra week would "extend Blackpool's season for the benefit of local businesses".
He said visitor figures in 2012 had shown that the Illuminations were "the single most important reason for visiting Blackpool during the autumn period spanning September to December".
He added that around one million of Blackpool's visitors had "named the lights as the primary reason for coming".
Head of Merlin Entertainments Blackpool, Iain Hawkins, said extending the Illuminations "can only be a good thing".
"Not only will it help businesses by extending the season, but it will also give visitors even more opportunities to visit to see the fantastic lights," he said.
The Illuminations will be switched on on Friday 30 August.