Preston Bus Station: £1 bid set to be declined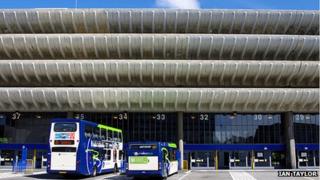 An offer from a Preston businessman to buy the city's bus station for £1 is set to be declined by the council.
Entrepreneur Simon Rigby offered to buy the iconic bus station after Preston Council voted to demolish it because of running and refurbishing costs.
His plans were backed by a consortium of local experts.
A council report has recommended the cabinet declines the proposal and works with Lancashire County Council to build a new bus station at the site.
It said Mr Rigby's plans were not in the best, long term interests of taxpayers.
'Modern standards'
Preston City Council will meet on 21 March to formally consider the proposal.
Council Leader Peter Rankin said: "Selling the bus station for £1 might save the council money in the short term but it guarantees nothing.
"There can be no guarantees imposed on the future use of the building as a bus station, nor on future investment in the building.
"The major risk is that, for whatever reason, anyone who owns the bus station building could at some point simply decide not to operate it as a bus station anymore. That would leave Preston without a functioning bus station and no money or land to build a new one."
He said the cost of getting the bus station up to "modern day standards" were between £17m and £23m.
'Bus station lover'
Mr Rigby, who founded utilities company Spice and is now CEO of the Greengen Group, said he wanted to save the bus station as he knows what it means to local people.
He was proposing to invest up to £2m to pay for some repairs and improvements to the building.
His plans included making the car parking spaces larger for fewer cars, banning traffic from part of the bus station area to benefit pedestrians and setting up a retail area for start-up businesses.
Mr Rankin said: "We would like to thank Simon for his proposal and the time he has taken to put it together and discuss it with us.
"He like many people is a lover of the bus station building and wants to keep it.
"However, we have to think long term and what's in the best interests of Preston.
"The £8.3m guaranteed investment from Lancashire County Council, set aside in their capital programme for a new bus station for Preston appears to be the best option."