Blackburn and Burnley fans in police banning order warning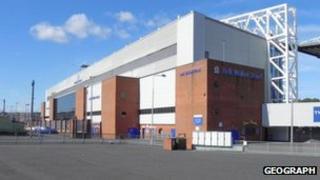 Lancashire Police have warned fans going to the Blackburn-Burnley derby that troublemakers could be banned from future games.
It comes ahead of the clubs' Championship match which is due to kick off at Ewood Park at 12:30 GMT.
Up to 4,000 Burnley fans will be taken to the ground by bus in an attempt to keep supporters apart before the game.
Police say they will not let a minority spoil the game and warn they will seek banning orders for any offenders.
Burnley fans are being asked to arrive at Turf Moor by 09:45 GMT, so they can be taken to Ewood Park ahead of the match.
People who live in the area are being warned that traffic will be busy around both grounds on Sunday morning.
Supt Jon Puttock said: "The aim of our operation is to ensure public safety and get people to and from the ground safely.
"It is important to remember very few people attending football matches actually cause problems at the games.
"I want to reassure people who will be at the game that we will not be letting a minority spoil what should be an occasion for all the family to enjoy."