MP calls for 'gridlock' photos as Blackpool Prom shuts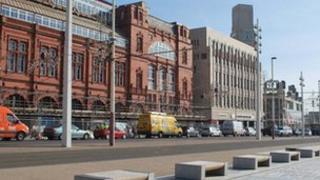 An MP has urged Blackpool residents to send him photographs showing traffic congestion in the resort to help prompt a full council debate.
Paul Maynard, Conservative MP for Blackpool North and Cleveleys, wants images emailed in or posted to social sites to show the town "is not moving".
It comes as part of Blackpool Promenade closes for 10 days for road works.
Council meetings with taxi drivers have taken place to discuss how to improve traffic flow in the area.
Mr Maynard, who has also set up an e-petition on the subject on the council's website, said he was "incensed by the denial some made about the congestion".
"Nothing will show the problem clearer than a collection of random photos from ordinary residents trying to get on with everyday lives, but cannot due to the flow of traffic", he said.
'Political propaganda'
Blackpool Council said the promenade closure was taking place to allow two pedestrian crossings to merge into one at New Bonny Street.
Councillor Fred Jackson, cabinet member for streets and transport, said: "We anticipate that people will adapt to the road closure and choose different routes, or alter the time that they travel over the next few days, which will help traffic to flow easier.
"Traffic signals around the town centre have been tweaked to ensure that cars are able to flow through, while deliveries to the central business district are being kept to a minimum during peak times.
"I would like to thank all drivers for their patience while these essential works are being carried out."
Mr Jackson said Mr Maynard's petition was "political propaganda" and he could arrange a meeting with councillors any time.