Heysham-M6 road link given go-ahead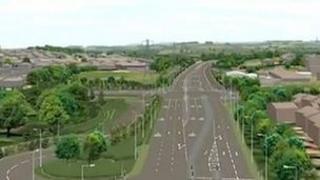 Plans for a major road-building project linking Heysham and Morecambe to the M6 have been approved by the government.
The transport secretary announced that permission has been granted for work to begin on the £123m route.
Supporters say the road is vital for the economy and will ease congestion.
But opponents of the project have said the road will destroy parts of the countryside around places like Torrishome and Halton.
A number of design changes have cut the cost of the scheme from £139m since original plans were given the go-ahead in 2010.
The Department for Transport will contribute £111m to the redesigned project, with Lancashire County Council funding the remaining £12m.
County councillor Tim Ashton, cabinet member for highways and transport, said: "The new road will reduce congestion and greatly increase the potential for investment in the surrounding area."
The scheme includes a number of measures to protect the environment by improving wildlife habitats, tree cover and watercourses, the county council said.
The approval granted by the government includes compulsory purchase powers and the county council said it will now write to the affected land owners and start the formal process of acquiring the remaining land required for the road.
Archaeological investigation works have already begun to establish if there are any finds that require further investigation before the main construction works begin in the summer.
The road is expected to be completed by December 2015.