Men jailed after mobile phone footage revealed sex attack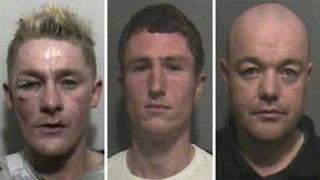 Three men have been jailed for sexually assaulting a teenager who realised she had been attacked when she saw footage recorded on her mobile phone.
Police said the 18-year-old was attacked in St Anne's, near Blackpool, Lancashire, on 8 October 2011.
David Wilcock, 34, admitted three counts of sexual assault and Tony McCarthy, 22, and Graeme Defty, 35, all from St Anne's, admitted two counts.
All were jailed for three years and six months at Preston Crown Court.
Insp Tony Baxter of Lancashire Police said alcohol was a "major factor" in the incident.