Protest over University of Central Lancashire's company plan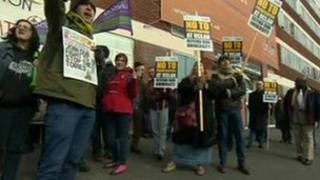 About 100 students and lecturers have taken part in a protest in Preston, claiming there are plans for the city's university to become a limited company.
Protesters said the University of Central Lancashire (UCLan) wanted to become "a for-profit business".
The University and College Union (UCU) said the scheme caused "deep concern".
UCLan said it was considering becoming a company limited by guarantee (CLG) in the way that some charities and not-for-profit companies operate.
Vice-chancellor and chief executive Malcolm McVicar said there would be no shareholders or change in status.
He said the move was "neither privatisation nor a prelude to privatisation" as that would be "incompatible with the mission, objectives and charitable status of the university".
He added: "The university board has made it clear to all staff that it would not contemplate any move to a CLG if that had any negative impact on the position of staff and students."
Peter Lucas from UCU said the move would "bring us significantly closer to becoming a for-profit university" and that would "make it easier for for-profit companies, including private equity funds, to gain access to, and influence over, the university's assets".
However, Edd Graham-Hyde, president of the students' union, said he supported the move.
He said: "Moving from a higher education corporation to a company limited by guarantee and charity, provides extra protection from the government, should the government want to shut UCLan down.
"It means we can absolutely secure the long-term education of students."