Preston Bus Station: £1 bid rejected by council bosses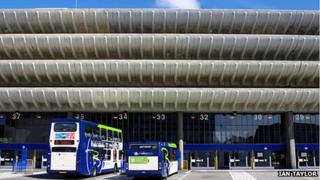 A Preston businessman's offer to buy the city's bus station for £1 has been rejected.
Simon Rigby tried to buy the building from Preston City Council after it voted to demolish it because of running and refurbishing costs.
A spokesman for the council said Mr Rigby's proposal was "not the best option for the long term".
It added it would negotiate with Lancashire County Council (LCC) on options for a new terminus.
LCC has guaranteed Preston £8.3m for a new station.
Mr Rigby, who founded utilities company Spice and is now CEO of the Greengen Group, said he wanted to save the bus station as he knows what it means to local people.
He was proposing to invest up to £2m to pay for some repairs and improvements to the building.
His plans included increasing the size of car parking spaces, improving facilities for pedestrians and setting up a retail area for start-up businesses.
Preston City Council leader Peter Rankin previously said if the bus station was sold for £1 there was "a major risk" the owner could simply decide not to operate it as a bus station.
He said estimated the cost of getting the bus station up to "modern-day standards" was between £17m and £23m.