Lancashire Police pull out of Channel 4 TV series on emergency services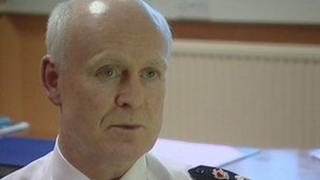 Lancashire Police have pulled out of filming a TV programme looking at the emergency services in Preston and Blackburn.
There was criticism of Channel 4's 999: What's Your Emergency? for damaging Blackpool's reputation when film-makers focused on the resort.
Chief Constable Steve Finnigan said he had withdrawn over the "potential to damage the reputation of an area".
A Channel 4 spokesman said it was sad the force was not going to be involved.
'Did not sensationalise'
Mr Finnigan said Blast Films, which made What's Your Emergency?, had been "an excellent company to work with".
"We are grateful to them for giving us the opportunity during the first series to show the public the challenging and important work our officers and staff undertake every day," he said.
"At no point did they sensationalise any incident they attended with my officers or staff, and they remained true to their word in simply highlighting the many and varied calls and incidents which all emergency services regularly deal with."
Mr Finnigan said Lancashire's Police and Crime Commissioner, Clive Grunshaw, supported the force's decision.
'Praised by critics'
Jessica Toomey, who chairs Preston By Night representing pubs, clubs and entertainment venues in the city also said she welcomed the decision.
She said: "Preston's a great city and rather than celebrating how great it is, this programme could completely tarnish that by the behaviour of one or two people that you could get in any town or city."
A Channel 4 spokesman said: "The first series of 999: What's Your Emergency? provided a real insight into the work done by the emergency services in Blackpool and the challenges they face across the country.
"It was praised by critics and viewers alike, and Blackpool Council leader Simon Blackburn said that the series made him look at the city's social problems in a new light and ask new questions about how to tackle them."
The spokesman added: "We've had excellent relations with Lancashire's emergency services and we're sad that Lancashire Police haven't been able to begin filming as planned.
"We are currently discussing plans for a second series."