Gary Windle found dead in Briercliffe snow will be 'sorely missed'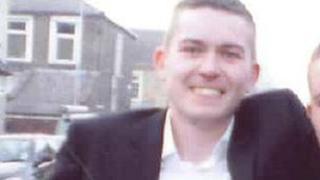 The mother of a man whose body was found in large drifts of snow in Lancashire said his death has "left a large hole" in his family's lives.
Gary Windle, 25, was found by a farmer on Shay Lane in Briercliffe, near Burnley, at about 13:30 GMT on Saturday.
Police believe he had tried to walk home after a taxi was forced to abandon driving him home on Friday night.
A post-mortem examination is due to take place on his body.
Ch Insp Derry Crorken described his death as a tragic accident and said conditions around where Mr Windle's body were found were "absolutely treacherous".
"Officers used a tractor to get to the scene and even that got stuck in the snow and they had to walk and crawl the remaining distance," he said.
"The snow and ice has been severe in the area with many roads not passable."
Mr Windle's mother Julie Ashworth said: "He was such a larger than life character and would always make us smile.
"Losing Gary in this way has left a large hole in our lives."
She added: "He will be sorely missed to all that knew him including his family and friends. He was a true legend."
Many villages in the area cut off by large snow drifts over the weekend are now clear and back to normal.
Police said it "simply could not get to" villages near Burnley, including Briercliffe and Wycoller.
The force worked with Lancashire County Council to reach the villages and provide supplies.
Tony Darcy, the owner of Wycoller Craft Centre, said the village's 40 residents were cut off by the weather on Friday evening until a JCB cleared snow on Sunday evening.
He said: "We were scared stiff of being landlocked. Solid snow drifts were between 6ft and 8ft high but luckily we had just stocked up with provisions."
Snow showers
The severe weather affected much of the UK over the weekend.
In West Yorkshire, many roads on high ground have been closed because of drifting snow.
Dozens of schools across the county are closed, with most of those in the Bradford and Kirklees areas.
In Cumbria, about 50 properties remain without electricity, mostly in the Eskmeals, Bootle and Waberthwaite areas.
About 50 schools are closed across Birmingham and the Black Country.
BBC weather presenter Carol Kirkwood said there would be snow showers, mainly across north-eastern parts of the UK on Monday, and most areas would be bitterly cold.
She said the easterly, gusty Arctic wind would send temperatures down to -4C in Newcastle and -2C in London.