Work to repair damaged Fylde dunes begins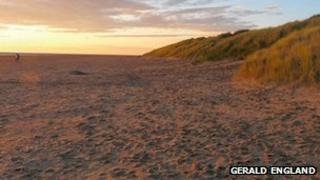 Work to enlarge the sand dunes along the Lancashire coastline has begun.
The five-year project funded by Defra will widen the dunes along the Fylde by up to 30m (98ft), to reduce the risk of flooding and erosion.
Fylde Council and Lancashire Wildlife Trust will carry out the work along with volunteers.
They hope it will improve the natural habitat for many species on the dunes, including the smooth lizard and bird life in the Ribble Estuary.
More than 300 species of vegetation are also present on the dunes, which stretch between Starr Gate and Lytham Green.
Lancashire Wildlife Trust dunes officer Lynne Ashton said the work would involve adding fencing to the beach to help the dunes build up naturally.
'Protecting properties'
"We are going to use chestnut pailing blockwork to provide obstacles that will trap the sand as it blows in from the beach," she said.
"It will pile up in a short space of time and we will vegetate it to trap more of the sand.
"We will certainly see the progress of that by next year."
The trust said the built-up dunes form part of the soft sea defence system, protecting properties along the coastline.
Boardwalks will also be put down on the beach to provide access from North Promenade in St Annes to the beach.