No smoking signs in Blackpool parks made 'friendlier'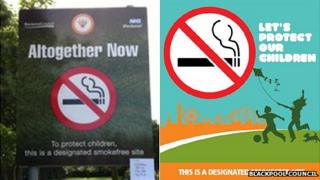 No smoking signs in Blackpool's parks have been given a "friendlier design" following concerns over size from residents, the town's council has said.
The NHS Blackpool and Blackpool Council signs were put up in 13 playgrounds last August to deter smoking.
Thirty-eight signs were due to be put at park entrances, but the concerns over size and number have led to a redesign and a plan for 26 instead.
Councillor Ivan Taylor said he hoped the new design would "suit everyone".
The signs are advisory, as the council cannot legally enforce a ban on smoking in parks without a specific by-law.
Their installation was criticised by smokers' lobby group Forest, who said it promoted intolerance and social exclusion.
A spokeswoman said some people had also contacted the council to say "they should be allowed to smoke in parks".
'Strong message'
The 26 new signs, which will be erected subject to a revised planning application, are "designed to make people think twice and reconsider where they are smoking", Mr Taylor said.
"We received a lot of comments about the signs proposed for the park entrances [and] we've taken on board these suggestions and made a number of changes to the design and size.
"No-one disputes that people shouldn't be smoking in playgrounds where children are playing and it's important that the signs in this area send out a strong message.
"Children should be able to play in a clean, healthy environment."
The council spokeswoman added that the signs were "part of a programme of activity to reduce the harm of smoking tobacco to the health of Blackpool residents, particularly children".