Azeem Nawaz Burnley assault: Family 'looking for answers'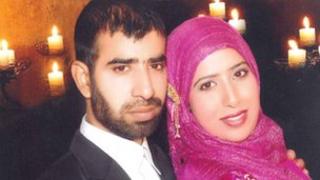 The family of a Nelson man left in a medically induced coma after an assault in Burnley have said they are "looking for answers" to find out what happened.
Azeem Nawaz, 32, was found on March Street with a head injury on 9 March. He remains at Royal Preston Hospital in a serious but stable condition.
A Crimestoppers reward of £3,000 has now been offered for information that leads to an arrest and a conviction.
The father of four's wife Alia said their lives have "changed overnight".
She said: "The children are constantly asking about their dad and when he is coming home - they are desperate to see him and have him home.
"There are so many things going through our minds but unfortunately, there are no answers."
She added: "Finding out what happened to Azeem will help us to come to terms with the fact that he is as poorly as he is now, so if anyone knows anything at all about what happened to him - please tell someone."
Det Insp Jim Elson, of Lancashire Police, said the self employed builder was found at about 20:00 BST outside an address on the street by a passing motorcyclist.
He said: "At this stage it is a likelihood that he has probably gone there to meet somebody and there may have been an altercation.
"We are unclear as to how his injuries have been sustained."