Old Comrades Club in Fleetwood burgled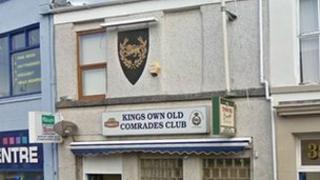 Thieves have stolen £20,000 from an ex-servicemen's social club in Lancashire.
The burglary at Kings Own Old Comrades Club on Adelaide Street, Fleetwood, is believed to have happened between 00:40 BST and 06:45 on Tuesday.
Police said the thieves climbed a 7ft (2m) wall then removed roof tiles to get into the building.
Officers believe the burglars had knowledge of the club's interior and said the alarm had been set but did not go off.
A small safe was recovered on Thursday in a ditch on Underbank Road, Thornton.
Officers said the offenders used cutting equipment to gain access to the main safe which contained nearly £9,000 of the club's takings, £4,000 in social fund money and £6,000 of the club's savings. Money was also taken from a smaller safe and cash tins.
The break-in was discovered when the secretary arrived to open up on Tuesday morning.
A witness reported hearing banging at approximately 01:30 which is when police believe the burglary took place.
Det Sgt Kathryn Riley said: "I would appeal to anybody that was in the area and noticed any suspicious persons or vehicles to get in touch.
"The small safe that was stolen was recovered on Thursday by council workers in a watery ditch on Underbank Road in Thornton.
"I'd be keen to speak with anyone that thinks they saw this safe being abandoned or saw anyone acting suspiciously in the area."