Blackpool 'lollipop men and women' celebrated with badge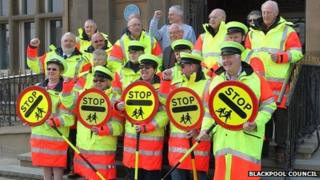 Blackpool's lollipop men and women have been given badges to mark the 60th anniversary of the introduction of school crossing patrols.
The town's council presented officers from its 40 school crossing patrols with the "small gesture" at a ceremony at the Town Hall.
Patrols were introduced in the UK after the passing of the School Crossing Patrol Act in 1953.
Councillor Fred Jackson said they represented a "British institution".
Mr Jackson, who presented the officers with their badges, said they and their predecessors had "helped to protect young people on their way to school for generations".
"It is the diamond anniversary of the profession being enshrined in law and to recognise the contribution we felt it was right to make a small gesture," he said.
"Parents, families and children love lollipop men and women, but also recognise that they play a valuable role helping to get pedestrians across the road safely during busy periods."
He added that the council had no plans to scrap school crossing patrols as part of budget cuts - as has happened in other areas of the country -and would continue to support them "because the public love them".
"I'm sure they can look forward to another 60 years of success in serving the public," he added.
The School Crossing Patrol Act 1953 and the School Crossing Patrol Order 1954 introduced officers to the UK's streets.
Patrols originally had responsibility for assisting children to cross roads to and from school, a duty previously taken on by police officers and traffic wardens.
In 2001, a change in the law gave officers responsibility for parents, carers and other pedestrians as well as children.