Ban on wind sports lifted at St Annes after sand yacht death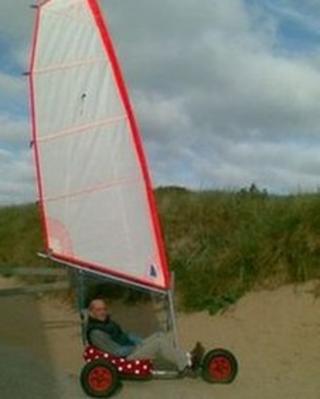 A ban on wind sports on a Lancashire beach has been partially lifted 10 years after a woman was killed by a sand yacht.
Carole Cruz, 38, of Burnley, was walking along St Annes beach with her two children in August 2002 when she was hit.
She later died from her injuries.
Fylde Borough Council has granted a licence allowing most wind sports to return, although a ban on sand yachting remains.
The decision to lift the ban partially for a trial period until 31 August will see kites, kite buggies, mini yachts, speed sails and kite land boards returning to the beach.
Howard Henshaw, a Lancashire county councillor, has supported a lifting of the ban for 10 years.
He said: "Obviously the local authorities are being cautious but St Annes is an ideal beach for wind sports - the best in the UK.
"It is also great for tourism in the area."
'Element of danger'
Ian Dibden, 68, chairman of Fylde International Sand Yacht Club, welcomed the move.
"People want to see sports back on the beach," he said.
"We will make sure people are safe but I have been sand yachting here for 50 years and there had never been any accidents before."
Sand yachts are large buggies, about the size of a car, and can travel at speeds of up to 70mph.
A spokesperson for Fylde Council admitted there were some concerns regarding the decision.
"Parents with small children and dog-walkers are naturally worried."
However, Mr Henshaw believes that new plans to ensure safety are "stringent".
"There is an element of danger in most sports," he said.
"But the licence will ensure public safety."
The conditions of the licence mean that Trax Windsports, which operates a number of beach activities at St Annes, must abide by "strict safety conditions".
These include supplying a fully trained, designated manager when sports are under way, and placing flags along the beach indicating course routes.
The trial period will also look at what effect, if any, wind sports have on the local wildlife.
The dunes at St Annes beach are a Site of Special Scientific Interest (SSSI) and include birds and rare lizards.
An open weekend of wind sports will be held on 15 and 16 June.