Notsensibles recall writing Margaret Thatcher song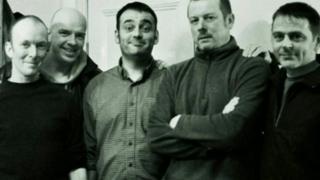 Margaret Thatcher was on the verge of becoming prime minister in 1979, when a punk rock band from Lancashire wrote a satirical song about her.
"It was tongue-in-cheek - a bit of fun," said Notsensibles guitarist Stephen Hartley about I'm in Love with Margaret Thatcher.
"At the time it was a throw-away ditty and still is, but it was about Thatcher's Britain."
The guitarist, who is best known as Sage, said: "It does say something about the social circumstances of the day and of today, though."
Rival song
He said Roger Rawlinson, keyboard player and songwriter, reeled off the song with help from the rest of the band - Michael Hargreaves (Haggis), Gary Brown and Kevin Hemingway (Ploppy), in 10 minutes.
It was on the eve of the election and for a gig they were doing the following day.
The single's B-side was called "Garry Bushell's Band of the Week".
"He used to champion us when he worked for Sounds magazine, a heavy rock magazine that covered the early days of punk," explained Sage.
The single did not get in the official chart when it was originally released, although it got to number two in the independent chart in 1979.
Twenty five years on, it finally entered Radio 1's Official Top 40 following an online campaign backed by Tory supporters who wanted to stop Ding Dong! The Witch is Dead getting to number one.
The irony is not lost on the five-piece band from Burnley who wrote the song mocking the UK's first female prime minister.
"It's surreal, especially to think the Tory party have adopted it to knock Ding Dong off the number one spot," said Sage.
I'm in Love with Margaret Thatcher had a resurgence in 2011 when it featured in the Iron Lady film starring Meryl Streep.
The film's music supervisor had been a Notsensibles fan.
'Five ordinary blokes'
Sage said: "There was a lot of interest in the song when it was in the Iron Lady, but there has been massive interest in the song since Margaret Thatcher died."
He said the band which formed when he was 17 in 1977 were "not overtly socially astute".
"We were just five ordinary blokes from a northern working class town having fun.
"We have never taken ourselves seriously, hence the name."
The band still has its original line-up.
Sage said they had "come and gone - but we're all back together".
'Sneering punk band'
Their day jobs are not quite what you would expect of a group of punk rockers.
Sage, 52, trained as a doctor and is now a consultant in accident and emergency, Roger Rawlinson was a tree surgeon who now works for the council's parks department, Haggis is a nurse, and Gary Brown is in IT and Ploppy is a businessman.
"We were never rebels. We were never a sneering punk rock band - it was all a bit of light-hearted fun to us," said Sage.
The band are not banking on making fortunes from sales of the single.
"It was never about the money; it was and still is about having fun," he said.
Ding Dong! The Witch Is Dead from the soundtrack to the 1939 Wizard of Oz film reached number two on Sunday.