Queen's Guide to the Sands marks 50th anniversary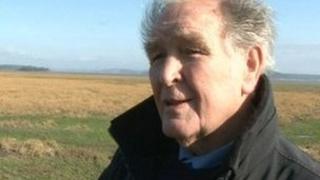 A charity walk across Morecambe Bay this summer will mark the 50th anniversary of Cedric Robinson becoming the Queen's Guide to the Sands.
Mr Robinson, 80, has guided thousands of walkers - including Prince Philip and Ade Edmondson - over what can be a treacherous path across the bay.
He is the 25th official guide and has "no plans" to retire.
The eight-mile walk on 30 June will raise money for the University of Central Lancashire (UCLan) and NSPCC.
Mr Robinson said: "People taking part are sure to enjoy it.
"The list of names to cross the bay is almost endless and living here and meeting new people has been a wonderful experience.
"I have never had anyone go away from the walk grumbling."
Mr Robinson, an honorary fellow of UCLan, has guided nearly 500,000 people over the sands over the last 50 years.
The walk, usually undertaken barefoot, starts at Arnside and finishes at Kent's Bank Railway Station and is expected to take four hours.