Alison Curtis: the UK's first female boxing trainer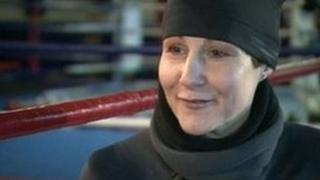 "It's a fantastic sport but it takes 100% dedication. It doesn't smell good, you're going to get hit and it will hurt."
Alison Curtis, a mother of six from Accrington, is under no illusions about the challenges the sport of boxing poses for many women.
For a decade she has been working as the only female trainer at the town's Kokoro Centre, a boxing and martial arts gym run with her husband, Jason.
And now she has become the first female boxing trainer in the UK to be awarded a professional licence by the British Boxing Board of Control.
"I think boxing is slightly intimidating to women but there's nothing at all to be intimidated about - it's a great environment to come into."
Interest in the sport among women is growing slowly following Nicola Adams's success in the Olympics.
The Yorkshire flyweight became the first female to win Olympic gold in boxing at London 2012, making her a sporting hero.
Alison, 46, still hopes more girls will take up the sport but only one woman boxer is currently training at her gym.
"After the Olympics everybody said 'You're going to get a lot of females coming to the gym', but we didn't get any," she said.
Alison was reminded that boxing is predominantly a man's sport within minutes of entering her licence assessment in Bradford.
"Do you realise you are female?" her instructor joked.
"There's not much you can say to something like that," she said.
'Supported and encouraged'
Her aptitude and knowledge of boxing became clear and she flew through the assessment with an impressive pass mark of 99%.
"That's higher than my husband Jason got, and I'll never let him forget that," she said.
"I was supported and encouraged all the way. Their attitude was, if she's good enough, she's good enough."
Alison and Jason train more than 80 boxers of all ages and abilities from throughout East Lancashire and are at the gym 12 hours a day, seven days a week.
She is currently training two young men, Shakeeb Ali, 21, and Artif Ali, 25, who have just turned professional.
It was her determination to work with them that motivated Alison to get her professional qualification.
"I've been with the boys for four years and I had to either get a licence or hand them over to Jason.
'Bond of trust'
"It's like I'm their second mum. I need to know everything about them, their diet, habits, whether they're having relationship problems.
"They text me everything they do. If they've been out for a run, I want to know where and how far. That's the level of dedication needed to make it.
"My job is to train them and motivate them and to do that you need an unbreakable bond of trust."
Brian Roche, a retired professional, who trains fighters in Burnley and Bacup, praised Alison for her achievement.
"I wish the best of luck to Alison in her training career," he said. "To reach the level of skills she has, she must have worked incredibly hard.
"I'm seeing more and more girls come to our training and I think it's fantastic for the sport."
For Alison, the most important thing is her love for the sport.
"I can't remember a time when there wasn't boxing. You've got to love it - it's not a job, it's a way of life."