Tenants' anger after slab falls six floors from Wigan flats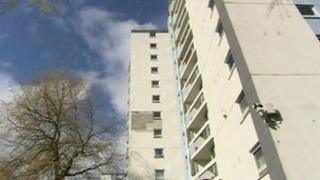 Residents at flats in Wigan say their lives were put at risk when a large piece of cladding fell six floors to the ground.
The section dropped 50ft (15m) from the side of Derby House, one of six tower blocks in the Sloane Village on Sunday.
Syd Hall, who represents tenants and leaseholders, said the cladding was a danger and should be removed entirely.
Wigan & Leigh Housing said it was investigating what caused the section to fall.
The cladding is a weatherproof coating applied to the outside of the buildings which is a few millimetres thick, a housing association spokesman said.
Mr Hall said a piece he picked up - a quarter of the section - weighed about 15 lbs (6.8 kg), the equivalent of about three bricks.
"It shattered when it hit the pavement," Mr Hall said. "Anyone under that would have been killed instantly."
'Green mould'
Chief executive of the housing association, Ashley Crumbley, said it had cordoned off the area and repairs were being carried out.
"The health and safety of our residents is our immediate concern," he said.
"A thorough investigation is under way to identify why the thin rendering coating has fallen off.
"No further areas of weatherproofing have fallen from any of the buildings, but some of this coating has been removed as a precaution and samples have been taken for testing."
It is not the first time that residents have had problems with the cladding.
Twelve months ago, a green mould appeared following the £8m refurbishment which was carried out by contractors.
Twenty residents contributed £2,200 towards the work.
"It feels like a waste of money," said Mr Hall. "I wish they would just remove it, it's dangerous."