University of Central Lancashire abandons company plan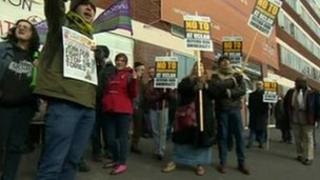 A Lancashire university has dropped a plan, which sparked protests from lecturers, to become a limited company.
Last month about 100 students and lecturers protested in Preston, over the proposal from the University of Central Lancashire (UCLan).
Vice-Chancellor of UCLan, Malcolm McVicar, said changing status is still the preferred option but there had been concerns about the impact on staff.
The University and College Union (UCU) said it feared this was privatisation.
Mike McKrell, of UCU, said: "We hope that is the end of the matter."
UCLan considered becoming a company limited by guarantee (CLG) similar to some charities and not-for-profit companies.
But the university said it had dropped the proposal following detailed discussions with the Government's Department of Business, Innovation and Skills.
Mr McVicar said: "While we are confident that the move would be positive for the university as an organisation, allowing us to be suitably agile to make the most of our international ambitions, we still have some concerns around the impact on staff terms and conditions, including pensions."
He added: "Our preferred option is still for CLG status but we will only do this if it is the right choice for all parties and does not result in any increased costs to the university."