Blackpool Council to provide its own broadband to public buildings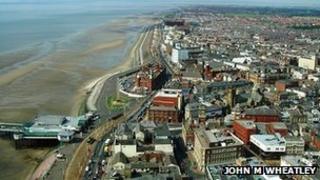 Public buildings in Blackpool are to be connected to a council-owned broadband network in a bid to reduce costs.
The network, which will cost £3.2m over five years, will provide internet and communications to around 100 schools, libraries, leisure centres and offices.
It will be set up and maintained by Lancaster technology firm The Networking People.
Councillor Chris Maughan said it would offer "significant savings" on the council's telecommunications costs.
The council's public buildings are currently served with broadband and telecommunications by Virgin Media.
Those connections will be replaced over the next six months with a network which links computers together over a wide geographical area.
A spokeswoman said that the council owning its own network would not only cut costs, but also allow quicker problem-solving and easier expansion into new premises.
She said the framework would "allow for at least six other Lancashire councils to collaborate and join the network".