Supporting Stanley: Tackling low crowds at 'the club that wouldn't die'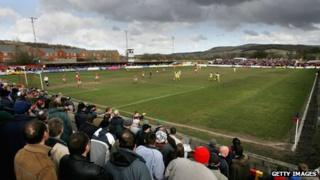 With news that Premier League attendances have increased by nearly 4% since last season and champions Manchester United average 75,529 fans a game, spare a thought for the supporters of Accrington Stanley.
Languishing at the bottom of the attendance league table - and only six places off the bottom of the Football League - Stanley pull in an average of 1,674 fans a match.
That figure is 110 fewer supporters than last year and included a low of only 1,031 for one game.
It could lead you to wonder what would drive anyone to join the tiny crowd at the Crown Ground week in, week out.
For lifelong Stanley fan Harry Stevenson, the answer is simple.
"It's something that's in your blood - I'm from the town and I support the town's team."
'Bringing Stanley back'
The 75-year-old has been cheerfully cheering on Stanley since his first game in 1947 and has seen the club hit highs and lows.
The lowest point was when the club resigned from the Football League in 1962, a move that eventually led to it going into liquidation four years later.
Undeterred by the death of his team, he helped establish a new Stanley in 1968 - which became known as "the club that wouldn't die" - though he did shift his allegiance temporarily "when Stanley hadn't a team" so he could carry on watching football.
"I watched Burnley, but I went back once people got involved in bringing Stanley back.
"I was working in Exeter when they played their first game back, against Formby in 1970, and I travelled back for it. I've continued going ever since - apart from the odd day's illness, I've never missed a game at home."
However, Mr Stevenson admits that he was one of the few to return to Stanley and that the liquidation and reformation of Stanley put paid to the club's chances for big crowds.
"Accrington is a very small town that went 40 years without a Football League team, which means you have generations that have grown up watching Blackburn and Burnley.
"You can't expect these people who have been gone for four decades to suddenly say 'I'm going to go and watch Stanley' because they won't do."
Accrington Stanley's managing director Robert Heys agrees those years without league football took their toll on the club's support, but says there still may be a way to get some of those fans back.
"We went a long time without a football team in Accrington and that's probably why we're a bit behind everyone else," he says.
"We have got Blackburn and Burnley either side and their combined average is about 27,000.
"If all those fans would come to just one game a season, that would add another 1,000 on to our attendance.
"It's looking for a little bit of help from our neighbours.
"We don't want to steal supporters [and] you can't change someone's colours, but you could borrow them for an afternoon."
That said, Mr Heys says the club "don't like moaning" about the low attendances and actually see something in them to be happy about.
"When we were non-league, we used to get 300 people on a Saturday and think that was a good crowd, so now to be getting an average of 1,600 is great - we've just to make sure we keep it going in the right direction."
He says the club are trying both quick fixes and more considered solutions to try and improve attendance.
"Long term, we've got players going out to schools and we're very much trying to be part of the local community.
"But a shorter term fix is just [to] try and get people to come along with price promotions, Friday night football and things like that."
'Cost adds up'
For Mr Stevenson, both ways are steps in the right direction, though there is "apathy in the town towards the football team".
He says price is also an issue - adult entry to an Accrington game is £13 - so the cost can still add up, even with ticket offers.
"It's sad to say, but the recession has taken its toll on a lot of people and you have more football [than ever before], sometimes two games in a week.
"The club is encouraging young people to come down free of charge or for a pound, but it's [still] expensive and the dad is saying 'if you go on Saturday, you can't go on Tuesday night'.
"What is the answer to attracting people? I don't know - I honestly think that if they were third or fourth in the league, the gates wouldn't improve by more than 200."
With a new manager in post and the managing director buoyant, maybe Mr Stevenson will find out if his guess proves to be correct next season.