Lancaster Castle opens fully to the public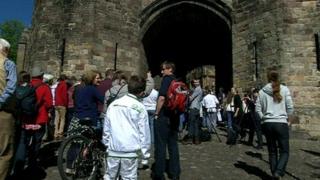 Lancaster Castle has opened its gates to the public for the first time in 900 years.
The castle's constable Gordon Johnson, who holds its key on behalf of The Queen, opened The John O' Gaunt gates for the Spring Bank Holiday.
It was closed as a Category C prison in March 2011 and there are plans to turn it into a tourist attraction.
Tours run by the county council will now include the Castle Courtyard as well as parts of the former HM prison.
The gates will open each day of the year, from 10:00 to 17:00.
The castle occupies a city-centre hilltop location on the site of three successive Roman forts but its keep dates back to the 12th century.
Pendle Witch trials
In addition to its role as a fortress and a prison, the castle has also been used as a court and an execution site.
The Pendle Witches were tried there in 1612, while other famous prisoners include George Fox, the founder of Quakerism.
Roman Catholic priests were also imprisoned and executed there, during the Reformation.
In the 20th Century, high-profile trials included the Birmingham Six in 1975, who were accused of the 1974 Birmingham pub bombings, and the "Headless and Handless Corpse" Trial of 1981.
English Heritage has described the castle as being "not only the North-West's most important historic and archaeological monument but also of international importance".