Lancashire-Pennine 10k charity run in Burnley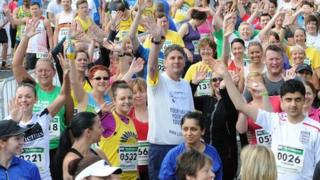 More than 1,500 runners have taken part in a 10k charity run through the streets of Burnley.
The Pennine-Lancashire 10k was organised by Jane Tomlinson's Run For All Events, set up as a legacy to the woman who raised £1.85m for charity.
The race started and finished at the Mechanics Theatre and passed landmarks including Towneley Hall and Burnley FC's Turf Moor ground.
A Pennine-Lancashire 10k was staged in Blackburn in 2010.
The winner of today's event was Tarus Elly, who crossed the finish line in 32mins 29secs.
One of the event's organisers, Emma Griffiths, said: "The sun shone, the crowds turned out and I hope everyone had an amazing day.
"We've had a brilliant debut in Burnley - thank you so much to everyone in the town who has given us such a warm welcome."
Mrs Tomlinson raised money for cancer charities by taking part in a series of sporting challenges, including the Great North Run, London Marathon and the Ironman UK Triathlon, after being given six months to live by doctors.
She was appointed CBE for charitable services shortly before her death in 2007.