The Ark: Canal boat cinema floats into Brierfield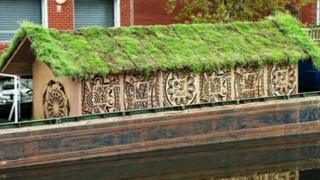 An unusual art project on board a canal boat is completing a tour of Lancashire with a trip to Brierfield.
The Ark looks like a wooden terraced house with a grass roof and houses a cinema where visitors can watch Pennine Lancashire-themed films.
The boat, which has travelled from Blackburn, will moor up on the Leeds-Liverpool Canal.
Designer Beth Derbyshire said the Ark celebrated the county's "industry, natural resources and communities".
She said she was "struck by the fact it was always raining here, but that led me to think of the role of water in Lancashire and how it is an important part of the industrial past".
Housed inside the boat is a film wall showing five films collectively called The Keepers.
The films follow a series of local people with a connection to the area including a former mill worker, a heritage enthusiast, an Asian interpreter and a former British soldier.