Men jailed after mobile phone footage revealed sex attack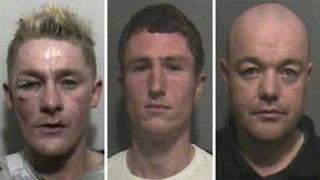 Three men jailed for a sex attack on an unconscious teenager who later found footage of it on her mobile phone have had their sentences increased.
The 18-year-old was assaulted in St Anne's, near Blackpool, Lancashire, on 8 October 2011.
David Wilcock, 34, Tony McCarthy, 22, and Graeme Defty, 35, all from St Anne's, were jailed for three-and-a-half years in March.
The Court of Appeal in London added two years to their jail terms.
'Unconscious and helpless'
Judges agreed with Solicitor General Oliver Heald the terms originally imposed at Preston Crown Court were "unduly lenient".
Lord Justice Treacy, sitting with two other judges, said the victim, who had been drinking with them before the attack, was "unconscious and totally helpless" during the incident at Wilcock's home.
The victim said she had no memory of what had taken place but four days later discovered the attack had been filmed on her mobile phone.
It was argued on behalf of the solicitor general that the original sentences were "inadequate" and did not reflect the gravity of the offence.
Lord Justice Treacy said there were a number of "clear aggravating" features in what had been a "serious crime", including the filming of the incident and the fact that it was a "sustained sexual assault lasting at least 20 minutes".
The audio track of the footage "showed there was much laughing and giggling by the offenders" who "egged" each other on, he said.
Lord Justice Treacy added all three men, who pleaded guilty to sexual assault, had been assessed as being ashamed and remorseful over what they had done.