Lancashire PCC Clive Grunshaw advertises for audit chairman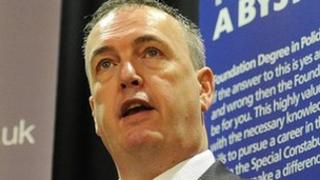 Lancashire's Police and Crime Commissioner Clive Grunshaw is advertising for a new member of staff to oversee finances.
The role of the audit chairman will be a paid post of £5,000 a year.
Mr Grunshaw already has a deputy, three assistant commissioners as well as other staff including a chief finance officer.
He said the independent chair, who will attend committee meetings at least four times a year, was a "crucial role".
He said the audit chairman will ensure all public money is properly spent by the commissioner's office and the chief constable.
Mr Grunshaw is under investigation by the Independent Police Complaints Commission over allegations he claimed for expenses twice while a Labour councillor and police authority member.
The probe follows a freedom of information request by Chorley South Conservative councillor Sam Chapman.
Mr Grunshaw became Lancashire's first PCC on 16 November, after having served for four years as the chair of the county's police authority.