Blackpool statue honours drowned officers and 999 services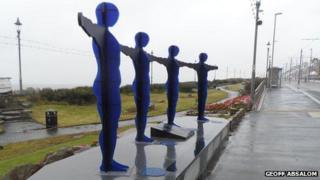 A statue honouring Blackpool's emergency services has been unveiled in memory of three police officers who drowned 30 years ago.
The 999 statue is situated on the seafront close to where the officers died trying to rescue a man who had gone into the sea to save his dog.
It was masterminded by Dana Gledhill who grew up near the spot of the 1983 tragedy on Blackpool's seafront.
She said: "It is a local tribute to local heroes."
The 8ft (2.5m) monument at Jubilee Gardens is the work of Matt Titherington who won a competition as a student at Blackpool & The Fylde College.
Mr Titherington said: "It is a very simple design.
"There are four figures linking hands, showing the protection services and that they are there to help.
"And when you reach the top you see they are people who could be anybody."
'Harrowing and undervalued'
Ms Gledhill, a senior prosecutor at the Crown Prosecution Service, recalls the drowning of the PCs near Gynn Square and said it "really struck a chord" with her.
She was 26 years old when PC Angela Bradley, 24, 23-year-old PC Gordon Connolly, and PC Colin Morrison, 38 died along with Scottish holidaymaker 25-year-old Alistair Anthony on 5 January 1983,
She said she works closely with the emergency services and their work can be "harrowing and undervalued".
"This is to pay tribute to them but it is for all unsung heroes, though, not just those killed.
"It encompasses the tragedies and successes such as the Riverdance ferry of the police, fire, ambulance and coastguard services."
Vice Lord Lieutenant of Lancashire, Col Alan Jolley, officially unveiled the statue before a dedication service which included a minute's silence to remember those who have given their lives protecting and saving others.
Ms Gledhill said she was "thrilled to bits" with the finished result after three years of fundraising to fund the work.