Barman 'lured Sasha Marsden' to death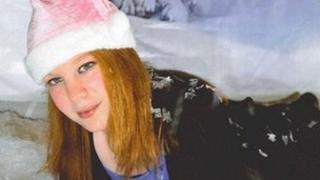 A hotel barman lured a 16-year-old college student to her death on the false promise of giving her a job as a cleaner, Preston Crown Court heard.
David Minto, 22, from Blackpool, denies murdering Sasha Marsden, who was studying child care and looking for a part-time job.
The jury heard Mr Minto sexually assaulted and repeatedly stabbed her in the head and neck with a kitchen knife.
He then dumped her body in an alleyway in south Blackpool.
Peter Wright QC, prosecuting, said: Mr Minto wrapped the woman's body in carpet underlay, a black bin liner and bedding and dumped it in an alleyway behind the hotel in Kirby Road.
He then tried to set fire to her body but his attempts were "wholly unsuccessful" as a neighbour later put out the blaze, he added.
Ms Marsden lived in Staining, near Blackpool, with parents Gary and Jayne and her boyfriend Daniel Taylor.
Mr Minto shared living quarters at the hotel with his girlfriend, Rachel Butterworth, who joint owned the premises with her mother.
Trade was quiet during the winter months and Ms Butterworth worked elsewhere as a care home assistant, said Mr Wright.
"On the evidence you will hear you may conclude the defendant was content to idle away his time playing video games or chatting away on social networking sites rather than finding employment himself."
'Job offer'
He met Ms Marsden through a mutual friend on a night out in Blackpool towards the end of 2012, the court heard.
Mr Minto managed to contact her via Facebook on 27 January, 27 four days before her death.
Using his moniker David "Demon" Minto he mentioned the prospect of a job at the hotel to "arouse her interest in meeting him".
Mr Wright said Mr Minto was keen that she should come alone, posting: "Will it just be you because I get a bit nervous around new people" and "again, so tomorrow if just you coming that will mean showing you the ropes easy".
She met him at the hotel the next day and later told friends she had been given the job, he added.
Mr Wright said Mr Minto had no authority or money to offer her the job and there was no need for it in the quiet off-season.
The case continues.