Blackburn man jailed for Christopher Proctor fire death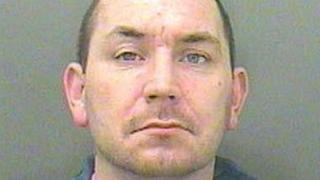 A man has been jailed for 12 years after admitting killing an 88-year-old man he befriended and then stole from over a period of time.
Christopher Proctor was found dead after a fire in his home in Pleckgate Road, Blackburn, in November.
Anthony Curry, 39, of Blackburn, admitted manslaughter, arson, burglary and attempted theft.
His partner Claire Randall, 31, of Blackburn, admitted attempted theft and burglary and was jailed for 876 days.
The pair admitted their offences in a hearing at Preston Crown Court in May.
Det Supt Paul Withers, of Lancashire Police, said: "Curry showed no regard for Mr Proctor, he was just intent on stealing from him.
"Over a period of time he befriended him and preyed on his vulnerability and took advantage."
"This really is a tragic case that touched the hearts of the local community."
Lancashire Police said Mr Proctor had died before the fire started on 10 November.
Hours before his death CCTV was recovered of Mr Proctor visiting a cash machine and he changed his pin number, police said.
Officers recovered his bank book and wallet in nearby drains.