Jeffrey Lake, ex-policeman, jailed for child rape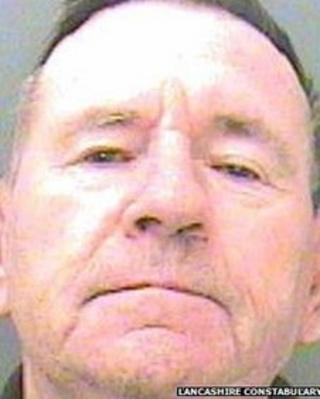 A retired police sergeant has been jailed for raping and sexually abusing two children while he was an officer serving in Lancashire.
Jeffrey Lake, 78, was extradited from his home in Australia to stand trial for the offences.
He was convicted at Preston Crown Court of 20 charges of historical child abuse, including rape and serious sexual assaults.
Lake, who had denied all the charges, was sentenced to 18 years in prison.
During the trial, the court heard the victims were subjected to "quite appalling abuse" between 1960 and 1974, the majority of the abuse committed when Lake was a police officer for Lancashire Police.
'Despicable offences'
Sentencing him, Mr Justice King said each offence was a "serious example" of sexual and physical abuse committed in a sustained way.
He said the victims had been deprived of achieving their full potential in adulthood as a consequence.
"Each has suffered from deep depression over the years. Each has felt suicidal and attempted suicide," he said.
"I have no doubt that the major cause of all their lifelong problems is the abuse each suffered at your hands."
He added that Lake had shown "no remorse" for the "deep and long-lasting" effects he had caused.
Lake, who retired in 1990, emigrated to Australia in 2002. As well as living in Lancashire, he also lived in Oldham and Maghull.
The first victim made the complaint to police in December 2009.
He was living in Peregian Springs on Queensland's Sunshine Coast when he was extradited in March.
After the sentencing hearing, the Crown Prosecution Service North West's Emma Kehoe said the abuse had been "horrific".
"These crimes began more than 50 years ago and they have had a devastating impact ever since on the lives of the victims.
"This case demonstrates that the passage of time is not a barrier to justice."
Lancashire Constabulary's Ch Supt Bob Eastwood said the "despicable offences committed against two young children [were] made all the more sinister by Lake's insistence of innocence and his attempts to persuade the jury the victims had invented the abuse".