Stallholders protest outside Cleveleys indoor market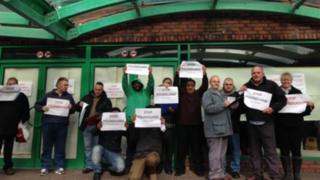 Stallholders are staging a protest over the closure of a Lancashire market that is being turned into a pound store.
HBS Shopping Village on Victoria Road West, Cleveleys was closed on Monday. It has been taken over by Poundland.
Traders claim they were only given 24-hours notice to quit the premises and remove their stock or lose it.
Landlord Salim Patel said: "I appreciate they are upset because they are losing their jobs but I have been very reasonable."
'Big family'
"They were given 18-months notice but they didn't take any notice," he added.
Mehfuz Patel, who said he has run Javids UK clothes shop in the market for 14 years, said: "It's a tough time to be finding new premises at such short notice and I fear some may never trade again.
"And it's not just their livelihoods they are worried about - the market is part of their social life too. We are like a big family."
The 35-year-old said 35 staff affected have taken turns to camp outside to ensure their stock was not taken.
Mehfuz Patel said more than 2,000 people had signed a petition to save the market.
A spokesperson for Poundland said it exchanged contracts with the landlord 15 months ago.
A spokesman said: "Discussions between the landlord and previous tenants are not something Poundland is in a position to comment on."