Hillcroft nursing home staff trial: Accused was 'model carer'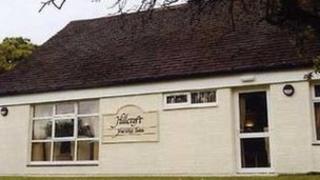 A senior staff member accused of abusing residents at a Lancashire nursing home has told a court she was "a model carer".
Carol Moore, of Ripon Avenue, Beaumont, Lancaster, is one of three staff who deny mistreating dementia patients at Hillcroft in Slyne-with-Hest.
A fourth is awaiting sentence at Preston Crown Court after admitting eight offences.
Ms Moore, 53, told the jury her co-accused were "good carers".
The court previously heard she is accused of abusing six residents - allegedly slapping one and throwing bean bags at others.
'Really good carer'
In response to the suggestion she had become frustrated with the residents, Ms Moore told the court: "The only frustration I had was that I didn't have enough staff at times."
She said she never took this frustration out on the residents "because it's not their fault".
She added there was an atmosphere of "bitchiness" at the home but that she was a "model carer".
Katie Cairns, 26, of Riverview Court, Westgate, Morecambe, denies abusing four residents - allegedly stamping on the foot of one and mocking others by throwing bean bags at them and touching them.
Ms Moore described Ms Cairns in court as "a really good carer".
Gemma Pearson, 27, of Hill Street, Carnforth, denies tipping a resident out of his wheelchair.
Ms Moore told the court Ms Pearson was "lovely, very willing to learn".
Darren Smith, 34, of Howgill Avenue, Lancaster, who was seen in bed with a distressed resident, has admitted abusing eight people at the home.
All the defendants are charged under the Mental Capacity Act 2005 with ill-treatment and wilful neglect of a person with lack of capacity between May 2010 and September 2011.
The trial continues.