Preston bus station plans for up to £15m revamp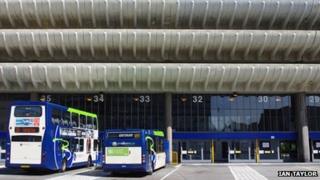 Preston bus station is to get a multimillion-pound facelift after the county council agreed in principle to take it over from Preston City Council.
The building had been earmarked for demolition but was saved in September when the government gave it grade II listed status.
Lancashire County Council (LCC) has earmarked £8m towards refurbishment.
With grants and other sources of funding, LCC said up to £15m could be available for the redevelopment.
John Fillis, cabinet member for transport at LCC, said their aim was to find something that "serves the people of Preston better".
PCC leader Peter Rankin said the county was better placed to draw on alternative sources of funding.
They wanted to create a "21st Century bus station that is warm, dry and comfortable for people who want to use it".
The deal is subject to final agreement at a cabinet meeting between the two authorities on 5 December.
English Heritage said the Grade II listing would not prevent changes being made to the building, provided its architectural significance was protected.