Swab left in patient at Burnley General Hospital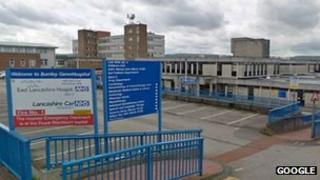 A medical swab was left inside a patient at a Lancashire hospital, it has emerged.
East Lancashire Hospitals NHS Trust (ELHT) confirmed the swab was left in a female patient "too long" after surgery at Burnley General Hospital in July.
The trust said it is the first time since 2009 a "never event", one that the NHS say should never happen, has been reported at the hospital.
The ELHT said it had implemented changes so it does not occur again.
'Extremely rare'
The trust, which also runs Royal Blackburn Hospital, was placed under special measures after Sir Bruce Keogh's investigation into hospital death rates following concerns over the Mid Staffordshire trust.
A spokesman for the ELHT said due to patient confidentiality it was unable to release specific details about the event such as how long the swab was left in place.
The trust confirmed it had conducted an external review and had drawn up an action plan which included a recommendation that a system be put in place to "count out" swabs.
All surgical patients who have packs inserted will now have a purple wrist band placed on them, one band for each swab.
The trust said the bands will be a visual reminder to medics that packs remain and need to be removed once bleeding has ceased.
Mr Simon Hill, clinical director for family care at ELHT, said: "I can appreciate how concerning this may be for patients and relatives. However, I can assure you that it is extremely rare for such events to occur.
"An independent review has been carried out and the recommendations are being implemented."
The trust added that no disciplinary action was taken against any staff in connection with the incident.